International students must obtain a student VISA for entering the Republic of Korea.
After acceptance, students receive their official Certificate of Admission​(표준입학허가서)​ form from Yonsei University MIRAE campus. The form is needed to obtain the D-2-6 visa from the Embassy or consulate of the Republic of Korea in your country. ​ ​
The application procedure may vary depending on the embassy or consulate in each country, so it is advised that you check with your local Korean embassy or consulate beforehand​. ​ The duration of the visa is determined by the Korean consular officer, and the expiration date on your visa may not match the ending date of your degree program or employment contract. If your visa expires before you complete your program, you will need to apply for a visa extension at the Korean Immigration Office.

Foreigners planning to stay in the Republic of Korea for longer than 90 days, they will need to apply for foreigner registration. This registration allows the students to reside in the Republic of Korea for the duration of their studies. This immigration process will be guided at the orientation and the coordinator at Yonsei assists the students for every step.

While in the Republic of Korea, if students want to visit other countries outside Korea, they must check the visa entry requirements of that particular country beforehand and must make sure they submit a travel permission form to MIRAE Office of International Affairs.

※ Required documents may be added or changed depending on individual circumstances.
For more information, contact the Korean Immigration Office.
Phone: 1345 (No area code)
Website: http://www.hikorea.go.kr
Visa Issuance Procedure
■ Visa Issuance
Visa is issued by the Republic of Korea Embassy or Consulate under the assignment given by the Minister of Justice.
(Immigration Act Article 8, Section 2, Regulations Articles 11 and 9)
■ General Visa Issuance Flow
- Upon visa application, applicatns must submit all required documents the status of stay, which must suit the process of their visit.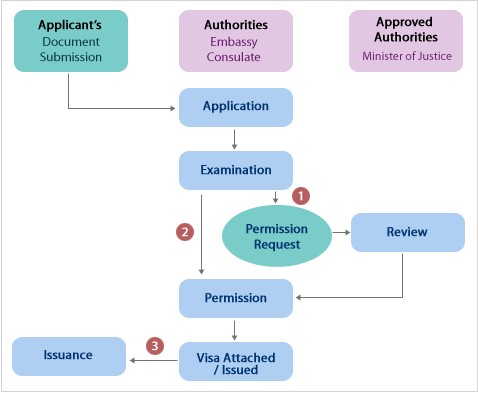 * Head of Embassy/Consulate may issue visa at their discretion for the issuance-approved visa only.
* For visas that the Head of Embassy/Consulate is not cleared to issue on discretion, applicants must request for the approval to Minster of Justice (According to Regulations Article 8, Section 1 of the Immigration Control Act)
* R.O.K. visa, which lists applicants' status of stay and its expiration date, is attached to the passport and returned to the applicant.
※ Please check to see if all of the information on the visa is correct prior to entry.
Related Information